About Mindy's Home Goods
About Us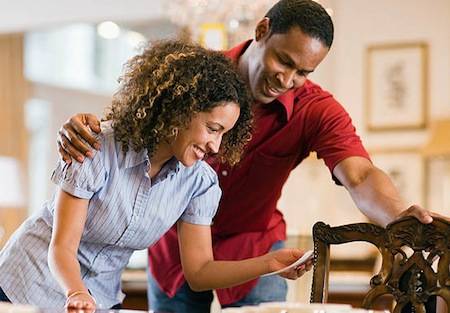 We are a family-owned online furniture, bedding and home goods store. We started MINDY's from a simple passion of wanting to do something special on our own. With a little hard work and a ton of favor from the Lord, MINDY's Home Goods was birthed. Our favorite part of our small business is the name! You probably think the pretty girl in the picture is Mindy. Well, her name is Yolanda. She's the Y in MINDY. And, I'm the D. My name is Daniel. Our children make up the M, I, and N! Together we are MINDY. And, while we are a family-owned business, everything we do is all about U! Without U, there simply wouldn't be MINDY's Home Goods.
Along the years, MINDY's has become a sophisticated and classy young lady. Today, MINDY's is all about quality. We look all over the nation for suppliers who provide high customer service and produce high quality products. From top notch bedroom collections to top quality genuine leather living room suites, Mindy's Home Goods offer a variety of excellent quality furniture, bedding and home good products. And, we do this with excellent service; so, you can have an excellent experience.
We recognize one style is not a one size fits all. So, MINDY's Home Goods has chosen a variety of styles and selections for you to choose from. We are updating our products all the time. What ever style you are looking for, we have it for you. From industrial electric to rustic farmhouse, discover on-trend styles made for mixing and standing out.
As a small family-owned business, we strive to offer you, our #1 customer, the BEST online shopping experience. How ever we can make your shopping with us better, please don't hesitate to ask. Here's a little secret...we want you to be happy.